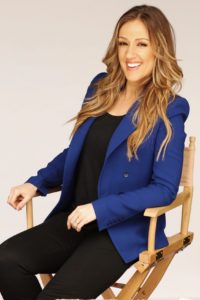 Megan Alexander | Author & Correspondent 
Megan Alexander is an Emmy nominated national news reporter. She can be seen every evening as a correspondent on the longest-running syndicated national news magazine television show Inside Edition. For the 2015/2016 seasons, Megan was a Special Correspondent for CBS Television covering "Thursday Night Football". She currently announces the US Women's Soccer games. Megan serves as a guest commentator on shows like the Wendy Williams show, Showbiz Tonight and Fox News.
The occasional actress, she has appeared in the ABC primetime drama "Nashville", the BET network's "Back to the Goode Life" and the feature films God's Not Dead 3 and Space Warriors. Megan sits on the Board of Trustees for the Hugh O'Brian Youth foundation. Megan's first book "Faith in the Spotlight- thriving in your career while staying true to your beliefs" came out in Fall 2016 and was a best seller on Amazon. Her second book, a children's picture book called " One More Hug", comes out November 12th, 2019. She also wrote and recorded an original lullaby to accompany the book, called 'One More" which is available on iTunes. As a popular Keynote Speaker, Megan has graced stages from the World Economic Forum in DAVOS, Switzerland to some of the largest Christian Business conferences in the US. Megan also runs a successful Media Coaching business. She graduated from Westmont College with a degree in Political Science. Megan is married and has 2 young sons. Megan splits her time between NYC/Nashville.
Follow her on social media:
Instagram: MeganJAlexander1
Facebook: Megan Alexander
www.MeganAlexander.com